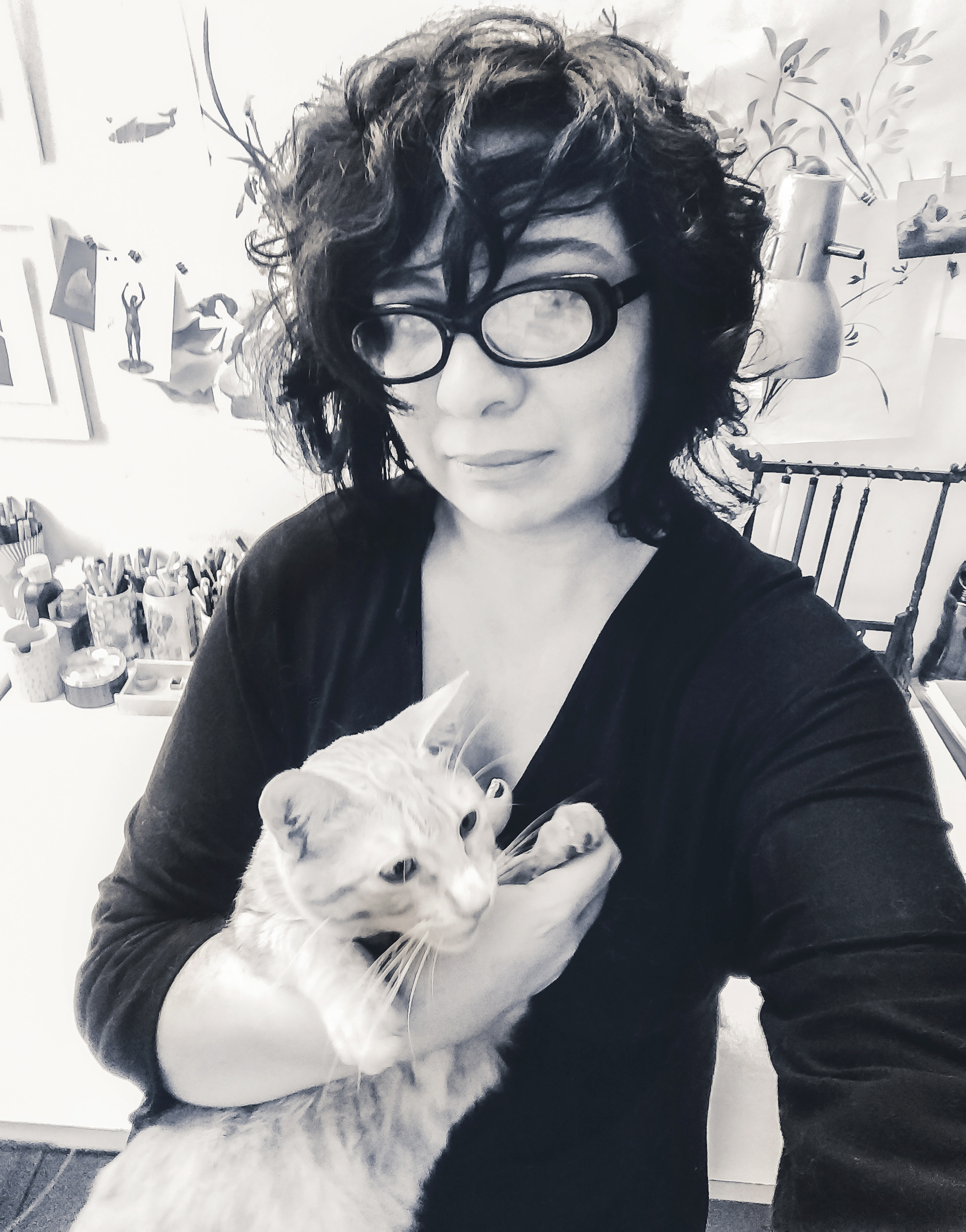 A artista e ilustradora Eva Uviedo nasceu em Santa Fé, na Argentina, vive em São Paulo, e odeia falar de si mesma na terceira pessoa. Desde 2007 desenha para livros, revistas, jornais, capas de livros e discos, murais e outros projetos. 
[EN] Eva Uviedo is a argentine artist based in São Paulo, Brazil. Since 2007 illustrates books, magazines, album and book covers, walls and other projects. 
evauviedo@gmail.com 
55 + 11 99206-2471
Em seu trabalho pessoal, desenvolve séries como Sobre Amor & Outros Peixes, que faz analogias entre seres do mar e sentimentos humanos. Como suporte para suas obras, frequentemente usa materiais como madeira, pratos de porcelana e murais. 
Lançou, em co-autoria com a escritora Clara Averbuck, os livros Nossa Senhora da Pequena Morte (2008, Editora do Bispo); e Toureando o Diabo (2016). 
Em 2014 ilustrou o livro Queria ter ficado mais, da editora Lote 42. Desde 2003 participa do grupo de criação coletiva e experimentações gráficas La Tosca. 
[EN] In her personal work, she develops the series About Love & Other Fishes, which makes analogies between sea creatures and human feelings. In her works, she often uses materials such as wood, porcelain plates and murals. 
With the writer Clara Averbuck released the books Nossa Senhora da Pequena Morte - Holy Mother of Petit Mort (2008, Editora do Bispo) and Toureando o Diabo- Bullfighting the Devil (2016). 
In 2014 she created a watercolor serie to the book Queria ter ficado mais - I wish I had stayed longer (Lote 42). 
Since 2003, she take part in the group of collective creation and graphic experiments La Tosca.
Editora Abril (Gloss, Saúde, Vida Simples, Nova Escola, Casa Claudia, Claudia Bebê); Trip Editora (Cidade Jardim, Nestlé com você, Daslu Magazine, Dufry World, Gol Linhas Aéreas, Itau Personnalité, Mais, Private Brokers, Trip, Tpm); Editora Globo (Criativa, Casa & Comida, Casa & Jardim); New Content (Tam nas nuvens, Dasa); Editora Iguana (Prana Yoga Journal); jornal Folha de S.Paulo; revistas Serafina e Cult + Marcas Ambev, Natura; Unilever; Royal Caribbean; Bayer e Sesc.